Description
R-A-M Mounting Systems are the universal ball and socket mounting system,  allowing you to mount practically anything anywhere. Its family of 600  interchangeable accessories will offer you solutions to your most challenging  mounting problems.
Its unique design provides easy installation, mobility, strength, versatility, vibration protection and durability, all at a low cost.
We have on offer the following 4 options: they work well in any cockpit, the pocket PC can be tilted in all directions and the mounting system is of good, strong quality.
Holds all PDA units, along with many other electronic units. The package includes interchangeable 'fingers' that mount on the side of the cradle. Simply snap on the correct sides set of 'fingers' that best suits your electronic device.
RAM Mounts for iPad
RAM Leg Kneeboard Mount for the Apple iPad
Part #: RAM-BM-L1-SB1-AP8U
Price: Please request a quote
RAM Tab-Tite™ Universal Clamping Cradle for the Apple iPad 4, iPad 3, iPad 2 & iPad 1 WITH OR WITHOUT LIGHT DUTY CASE
Part #: RAM-HOL-TAB3U
Price: Please request a quote
RAM X-Grip III™ Universal Spring Loaded Tablet Holder for Large Tablets including the Apple iPad, iPad 2, iPad 3, Samsung & Mo- torola XOOM
Part #: RAM-HOL-UN9U
Price: Please request a quote
RAM Mounts for iPad Mini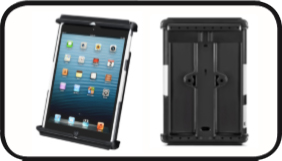 RAM TAB-TITE™ Universal Clamping Cradle for the iPad mini WITH CASE, SKIN OR SLEEVE
Part #: RAM-HOL-TAB12U
Price: Please request a quote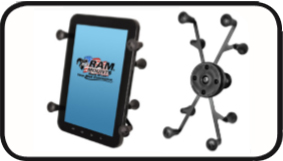 RAM Universal X-Grip II™ Tablet Holder with 1" Ball for iPad Mini
Part #: RAM-HOL-UN8BU
Price: Please request a quote
RAM EZ-ROLL'R™ Model Specific Cradle for the Apple iPad mini and iPad mini 3 WITHOUT CASE, SKIN OR SLEEVE
Part #: RAM-HOL-AP14U
Price: Please request a quote
RAM Mounts for Galaxy 10.1
RAM EZ-ROLL'R™ Model Specific Cradle for the Samsung Galaxy Tab 10.1 & Galaxy Tab 2 10.1 WITHOUT CASE/SKIN/SLEEVE
Part #: RAM-HOL-SAM5U
Price: Please request a quote
RAM X-Grip III™ Universal Spring Loaded Tablet Holder for Large Tablets including the Apple iPad, iPad 2, iPad 3, Samsung & Mo- torola XOOM
Part #: RAM-HOL-UN9U
Price: Please request a quote
RAM Mounts for Samsung Galaxy 7 Inch
RAM EZ-ROLLR™ Model Specific Sync Cradle for the Samsung GALAXY Tab 7.0 Plus WITHOUT CASE/SLEEVE/SKIN
Part #: RAM-HOL-SAM6U
Price: Please request a quote
RAM Tab-Tite™ Holder for Small Tablets with Thick Cases
Part #: RAM-HOL-TAB5U
Price: Please request a quote
RAM Twist Lock Suction Cup Mount with Universal X-Grip™ II Holder for Small Tablets
Part #: RAM-B-166-UN8U
Price: Please request a quote
RAM Universal X-Grip II™ Tablet Holder with 1" Ball for Samsung 7". Includes holder, arm and suction cup
Part #: RAM-HOL-UN8BU
Price: Please request a quote
UNPKD RAM Mounts for Apple iPhone
RAM HOLDER FOR APPLE IPHONE 3G
This cradle will not hold the 1st Generation Apple iPhone
Part #: RAM-HOL-AP6U
Price: Please request a quote
RAM Model Specific Cradle for the Apple iPhone 5/5s WITHOUT CASE, SKIN OR SLEEVE
Part #: RAM-HOL-AP11U
Price: Please request a quote
Universal RAM Mounts for Laptops
RAM Tough Tray IITM Universal Netbook iPad & Tablet Cradle Holder
Part #: RAM-234-6
Price: Please request a quote
RAM Spring Loaded Cradle for the Motion LS800 or similar (approx size – 230mm x 180mm) with heavy duty arm and ball
Part #: RAM-HOL-MOT1U
Price: Please request a quote