Description
EasyCockpit Windows is a GPS Moving Map Software for Windows tablet PC's/Old Pocket PC's that is currently no longer fully supported.
More than just a full colour moving map GPS!!
EasyCockpit  is a comprehensive and sophisticated aeronautical navigation tool for pilots and a must for pre-flight planning and in-flight navigation. Initially developed on a Windows Mobile platform, it is now available for Apple iOS (iPads/iPhones) as well as for Android Mobile devices. Designed to improve the pilots' situational awareness, it boasts many other features with a unique extensive database of airfields and aeronautical data. Regular updates are easily accessed ensuring your airfield information and aeronautical data is never out of date; flying is safer, easier and more relaxing.
This superb software offers:
Full Colour Moving Map with a high-resolution touch screen. EasyCockpit includes HSI and RMI needles and allows you to create "Abeam way-points". Tapping the screen at any point shows instant distance and ETA display to that point. Topographical data include layers that can be switched on or off e.g. Airspace, Political Map, Compass      Rose, Track Line, Range Rings and Glide Range rings. The display can be in Track Up or North Up mode. Elevation Display can either show Ground Elevation Data or Aircraft Height Above Ground;
Extensive Airfield Information for Southern Africa includes communication and navigation frequencies, runway in formation, fuel availability and contact numbers, cautionary notes, sunrise/sunset times;
Latest airspace data with reporting points and on screen view option;
Direct-To Function allows quick changes to flight plan – e.g. diversion to nearby airfields in an emergency, showing distance and bearing to these points;
Flight Log shows UTC time, flight time, present position, take-off time, way point ETAs and ETEs, distances and tracks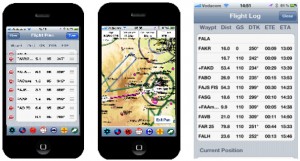 Flight Planning can be done with EasyPlan on your desktop/laptop PC and copied or emailed to EasyCockpit on your phone or tablet. A flight log can also be created in EasyCockpit on the tablet or phone. The option to include Airspace Intersection will show the correct frequencies when entering an airspace.
Track Recording* enables you to record your flight, which can then be exported to EasyPlan for evaluation after your flight; *available soon.
Aircraft Weight & Balance for quick and easy calculation of your CoG;
E6B Calculator allows for accurate and speedy calculations of density altitude, true airspeed, wind speed and direction;
A current weather subscription allows downloads of weather radar/satellite/forecasts as overlays on the mapping data;
Audio Visual Warnings & Reminders include Terrain, Airspace and Obstacle warnings and reminders to Start Decent and Change Fuel Tanks; and
Free updates for one year.
What you need to operate EasyCockpit:
Tablet PC (Wifi PLUS 3G) or phone on Apple iOS7 or Android platform from V4.2. Windows tablet PC version up to Win8 Pro. There is no app available for Windows Phone.